A Review of LegalZoom LLC Formation Services
Are you a business owner or budding entrepreneur trying to figure out how to form an LLC (Limited Liability Company)? Here is a service provider that can guide you through the process of forming an LLC with relative ease. Since a Limited Liability Company is an easier to form corporation, it is a very suitable choice for emerging entrepreneurs. Even if you are already running an organization as a sole proprietor or partner, you can convert your business into an LLC.
LegalZoom helps you set up your own LLC with relative convenience. It provides you with sound legal advice and proper documentation needed to register your business. It makes the process less expensive compared to attorneys, generally saving up to 85% of your cost.
So if you are looking to form a Limited Liability Company, you are likely to benefit from LegalZoom services. It is easy, quick and not so expensive. This review of their services and packages will likely prove beneficial for you in some way.
A Limited Liability Company
Before the actual review, let us develop a basic understanding of what an LLC is. A Limited Liability Company is a flexible, unincorporated association that provides limited liability to its owners blending together the elements of partnership and corporations. It is often a well-suited option for companies with single owners.
Unlike a sole proprietorship or partnership where an owner's personal assets can be taken away for settling business debts, an LLC offers limited liability where the owner is not personally held responsible for any liability of the company.
What is LegalZoom?
LegalZoom provides online legal document services and general information on legal issues for small business owners and consumers, helping them create their own legal documents. LegalZoom has made legal matters much more convenient than ever before, ensuring that legal protection is given to everyone in a cost-effective manner.
They are currently offering a wide range of documentation services like setting up LLCs, incorporations, last wills & testaments and registering trademarks.
LegalZoom claims to have formed over 80,000 Incorporations and LLC's and they have been doing more Last Will and Testaments and Trademark documents than anyone else in the world.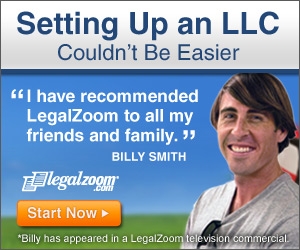 Who Can Benefit from LegalZoom
LegalZoom provides legal services at a low cost and with convenience. It generally targets small business owners, budding entrepreneurs and individuals looking for getting legal advice and documentation.
So, if you are looking for advice on how to form an LLC or you want to get your LLC registered promptly without paying huge sums of money to attorneys as legal fee, LegalZoom is the right place for you.
How to form an LLC with LegalZoom
LegalZoom has simplified what used to be a lengthy, difficult process for business owners into three simple steps:
Fill Out the Questionnaire – A simple questionnaire in available on the website of LegalZoom. You can fill out all the basic details regarding your business venture and your required provisions.
Filing of Documentation – You can create your documents through the LegalZip software. Once you are done, LegalZoom will file your Article of Organization with the appropriate state agency. They can even provide you with an operating agreement for your LLC.
Final Wrap-Up – After receiving your Article of Organization back from state, LegalZoom will deliver it to you with your complete LLC package including your operating agreement and membership certificates. You will also be provided with a list of steps you need to be aware of before proceeding further.
Pricing and Packages
The company charges as low as $99 for articles of incorporation unlike attorneys who may charge thousands for the same. LegalZoom offers three different price packages with a 100% satisfaction guarantee, providing refunds or future credit in case of any dissatisfaction. A review of their different packages is as follows:
Economy
For a low price of $99, a basic economy package offers you:
A preliminary LLC name clearance
Filing of Article of Agreement
Personalized operating agreement
Provisions regarding liability
Standard
A standard package, that can cost you up to $289, offers you additional features including everything in economy package as well as:
A deluxe kit with your company name embossed on it
Official company seal
Customized membership certificates
An online visibility package with PRWeb
Express Gold
It is an all-inclusive rush package offering you the best value with a lot of additional, beneficial features for a price of $359. In addition to all features of a standard package, it provides:
Priority rush service
Federal Tax Identification application
30 day trial to Business Advantage Pro attorney plan
Important business forms
Free version of Sage 50 Pro accounting software
These prices are quite reasonable compared to other legal service providers. Keeping in view the package features and excellent customer service, LegalZoom provides you with the best value you can get while forming a Limited Liability Company.
LegalZoom is also very upfront about the prices of add-ons it offers. Each add-on is explained, telling you how much it costs and allowing you to decide, instead of opting in for you, even for the free add-ons.
Pros and Cons
Like everything else, the service has a number of pros and cons. To keep the review balanced, both things have to be considered.
Pros – The basic three benefits of using LegalZoom is that it is affordable, fast and offers attorney oversight, which makes it a very feasible option for simple legal matters.
Cons – There are however, certain downsides of using LegalZoom. The service is not a substitute for the advice of an attorney. They are restricted by law to engage in any practice of law. Also, if your problem is complex, LegalZoom can not suffice for competent legal help.
However, there are a number of people who can find LegalZoom a beneficial choice for them regardless the cons.
Emphasis on Customer Service
LegalZoom has a well-maintained customer service department with over 150 personnel working for paperwork processing. They also offer a free review of documents by a specialist to ensure accuracy and completeness. When you are a novice working to set up an LLC, good customer service will be highly appreciated.
LegalZoom understand that its clients are new business owners or people who don't have much experience in legal matters and cannot afford attorneys. They have made the process and the legal matters easy for everyone to understand.
Is It the Right Choice?
If you are wondering whether LegalZoom is the right choice for you or not, here's a short answer: For simple and straight forward legal work it can be your best option.
However, if you have a complicated situation and feel apprehensive about it, you can get advice and documentation done through LegalZoom and get it reviewed by a paralegal.
The Customers' Side of Story
Around 80% of the customers looking to setup an LLC have provided positive feedback for LegalZoom.
Mr. Neal Frankle, a Certified Financial Planner, also worked on an in-depth review of LegalZoom. He regards LegalZoom as an easy to use and trustworthy service.
Although a number of complaints regarding the processing time do exist, they seem to be minimal compared to the positive reviews.
Go For It
So, if you are looking for affordable online legal services, you should give LegalZoom a try. All you have to do initially is go and check their website. It is easy-to-use, provides sufficient guidelines and answers your queries adequately.
Since it provides you with a 100% satisfaction guarantee, there is nothing you will lose in giving it a try!